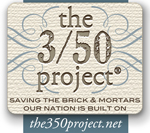 About Us
Turner Flowers is a family-run operation in downtown Ottawa, Kansas, and has been under the Turner's ownership and management since August 2006.

Lyle Turner has a master's degree in Horticulture from Kansas State University. He worked as an agriculture agent for Johnson County, Kansas from 1974-1979 and operated Turner Greenhouse from 1975-1995. The greenhouse was located on the Turner's family farm, four miles of east of Ottawa, where they still reside. Lyle also owned and operated Turner Flowers & Greenhouse (the old Osborne Greenhouse at 8th & Hickory in Ottawa) from 1981-1987. He worked as ground's supervisor for Baker University from 1995-2004, then as tree farm manager and plant buyer for Lawrence Landscape from 2004-2006. Lyle is happy to be back in business in Ottawa, doing what he loves and caring for customers, many of whom he's known for a lifetime.

Kathy Turner worked in the banking industry from 1971-1988, serving in such positions as head teller, bookkeeping, and trainer for computer systems before choosing to be a stay-at-home mom. She worked as office substitute for Ottawa Middle School from 1999-2006 and is the organizer for the Homemade Holidays Craft Show, held at OMS on the second Saturday of each November since 1999. The Turner's have made crafts, gifts, and decor since 1987 and are familiar to many craft show attendees in eastern Kansas. Today they integrate their handmade country crafts with flowers, plants, crafts, gifts and home decor in their shop.

Lyle and Kathy's son Shawn Turner is also works at Turner Flowers. He graduated from Ottawa High School in 2005 and served as the 2005-2006 Kansas FFA State President. He graduated Magna Cum Laude from Kansas State University in December 2009 and currently works as Agriculture Instructor and FFA Advisor at Spring Hill High School. Shawn is proud to be the third generation on the family farm and helps with many aspects of the shop's operation, from designing fresh and artificial flowers, helping customers, running deliveries, purchasing giftware, and operating this website!

"Swell fellow, isn't he?" (You can leave self-flattery like this when you're the webmaster... :)

The building in which Turner Flowers is housed is a circa-1880s structure, originating as a furniture store and spending over 50 years as the Monarch Pool Hall. From 1975 until the early 1990s, Fashion Alley/The Alley Shop women's clothing store was located there. Since that time, A Bloomin' Florist flower shop called 231 S. Main home until it was purchased by the Turner's in August 2006 and renamed Turner Flowers and Country Store.
We take pride in forming relationships with the people we serve. Now that you know a little about us, please stop in and tell us a little about yourself! Turner Flowers is always there for you to meet your floral, gift, and home decor needs. Just have a question about your house plants? Come on in, we're more than happy to help!